Skin Cancer Clinic
Our team here at Papamoa Beach Family Practice are pleased to offer comprehensive skin cancer care in our newly developed skin cancer clinic. Our team of qualified skin cancer doctors, assisted by experienced nurses, are able to offer all aspects of skin cancer medicine. This includes Full Body Skin Cancer Checks, dermoscopy, biopsy, and all aspects of treatment.
Dermoscopy – The New Frontier
Critical to the examination is the use of a dermascope. This handheld device has revolutionised the diagnosis of skin cancer, providing superior diagnostic accuracy, earlier diagnosis, and a reduction in unnecessary surgery.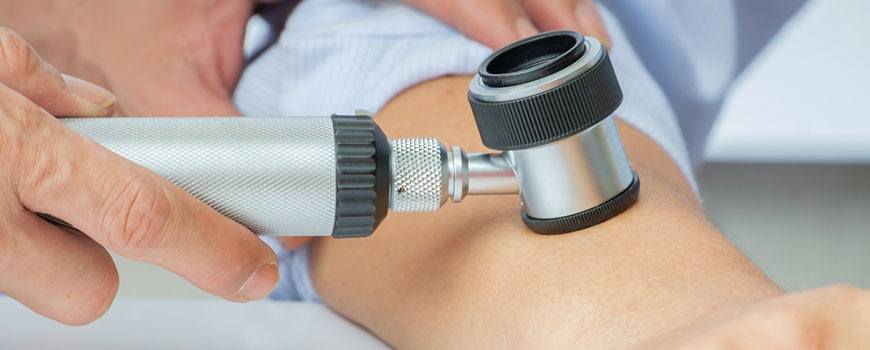 The use of a dermascope, often referred to as Dermoscopy has fast become the gold standard in the diagnosis of skin cancer. By incorporating magnifying technology with polarised light, a dermascope can allow better visualisation of those features seen within skin cancers, up to a depth of 2mm.
Not only does this result in superior diagnositic accuracy (as compared with the naked eye), but also allows for earlier detection.
---
Our Team: Accredited Skin Cancer Doctors
Although the dermascope has become the gold standard tool in the diagnosis of skin cancer, it is only as useful as the experience and training of the operator.
Our team, lead by Dr William Moss and Dr Vishad Chathury, have both extensive experience in the use of a dermascope, and continue to be accredited skin cancer doctors through the Skin Cancer College of Australasia. Additionally, both William and Vishad are accredited providers for skin cancer surgery through the local public health system.
---
Your skin cancer examination – what you can expect
A total body skin cancer examination typically takes 30 minutes. Following your examination, your skin cancer doctor will talk to you about the exam findings. Depending on the appearance of your moles, one of 4 outcomes may occur:
1. No treatment required
2. Monitoring
In this situation your skin cancer physician will take high definition photos through the Dermoscope, and invite you back in 3 months time to see if there has been any changes to the appearance of that mole.
3. Biopsy
This is often requested to confirm the doctor suspicions, as well as characterize the specific nature of the skin cancer, allowing the skin cancer physician to consider all the treatment options available to you.
4. Treatment
All modalities of skin cancer treatment are offered at Papamoa Beach Family Practice, including treatments such:
Cryotherapy
You may be offered cryotherapy, more commonly known as liquid nitrogen/freeze therapy. Generally, this treatment is reserved for superficial lesions.
Curettage and Cautery
You may be offered Curettage and Cautery. Under local anaesthesia, your skin cancer clinician will carefully scrape away the lesion, being mindful not to go through the entire thickness of the skin. Only suitable for superficial lesions.
Cream therapy
Effudix and Aldara are 2 subsidized creams which can be used to treat certain types of skin cancers. Often prescribed as "field treatment" for Solar skin damage (aka Actinic Keratosis).
Surgery
Depending on the nature of the lesion, you may be offered surgery. We are lucky to have 2 experienced skin cancer doctors who will be able to manage most of the surgeries that present to our clinic.
---